Technology Boy

Techno

Gender

Male

Race

Human

Location

Metropolis

Power

Gadgets

Movement

Flight (with Jetppack)

Weapon

Bow

Real Name

Luke Trenton

Faction

Hero

Mentor

Superman
Technology Boy
is a Hero Mentored by Superman. He's Justice League Member
Background
Edit
Technology Boy Born in 1991. He Has Sister Lily. He's Parents Killed by Circe When He Was 15 Years Old And Lily Was 8. He is Very Good at Gadgets. At The Present Time Brainiac Attack Them. Techno Broke Arm But, They Wound Lily in heart. There Are Some Percent Chance to She Steal Alive. After That Luke Promise to The World, That He Will Defeat Evil and Brainiac. 
Acknowledge
Edit
He is One of The Youngest Scientist. He Learned in Technicial University. He Learned Such Things About Science, But He Hate Biology. He Used His Gadget Abilities to Defeat Evil. He's one of the superheroes who haven't got superpowers. He Uses his own invented Bow And Jetpack.
Appearence
Edit
Techno Has Blonde Hair And Brown Eyes. He Wears Blue Uniform With Some Lightning Details and Justice League Emblem. He Have Jetpack on His Back
Relationship
Edit
He's Parents Killed by Circe and Brainiac Wound He's Younger Sister Lily in Heart. He Love One Girl Named Nature Rifle, but There's Big Problem That She's Villain. He've Best Friend Cold Strife
Mentor: Superman
Weapons: Bow
Power: Gadgets
Movement: Flight
Body Type: Spark Medium
System: PC
World: PvE
Height: 168cm
Weight: 160lbs
Bloodtype: AB
Abilities
Edit
Technology Boy Has Got Gadgets, Bow and Flight types of Superpowers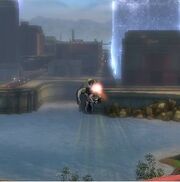 Favorite Food: Chicken Nuggets and Cheeseburger.
Hobby: Baseball, Basketball and Collecting Superhero Cards.
Technology Boy's Best Superhero Friend Cold Strife Call Him Techno.
He Hate, But at All He's Big Fan of Brainiac.