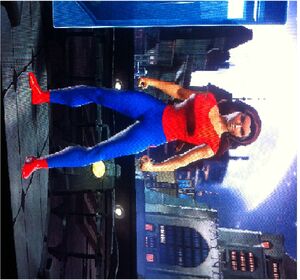 Background
Wonder Gal is an Amazonian that had direct training from Wonder Woman. Her name is Brianna Parker. She was born on July 14, 1996. She never really fell in love with a male until she met Superlad9990. She helped Batlad9990 in the raid to free the metahumans.
Stats
Mentor: Wonder Woman
Weapon: Brawling/One-Handed
Power: Sorcery
Movement: Super Speed
Body: Mesa Medium
System: PS3
World: PvE
Height: 6"1
Weight: 170lbs
Bloodtype: B
Abilities
She has super strength, super speed, super durability, sorcery, a deflection shield, and a magic lasso. She is so strong that lift 250 tons on average capacity. She can run at the speed of light. With her lasso she can force people to tell the truth and it's indestructible.
Trivia
Favorite Food: Tacos
Least Favorite Food: Mac n' Cheese
Hobbies: Hunting